The world's population is aging at an unprecedented rate. In Central Oregon, the population of adults over the age of 65 is forecast to grow by 55% from 2016 to 2040. How can we create an age-friendly community?  Think housing, transportation, life-long learning, intergenerational workforce and inclusive social connection.
Who are the older people in our midst?  What roles can our local cities and nonprofits take in facilitating an age friendly region?  What can individuals do to prepare for better aging?  Tune in to learn about growing older better in Central Oregon.
Moderator: 
Scott Cooper: Executive Director, NeighborImpact, Redmond and Prineville
Panelists: 
Susan Rotella: Executive Director, Council on Aging, Bend and all Central Oregon
Toni Landis: Sisters Age-Friendly City Initiative, Sisters
Heather Salvesen: Fundraiser, Bridge Meadows, Redmond and Bend
Betsy Warriner: Founder, Volunteer Central Oregon and nonprofit consultant, Bend
REFLECTIONS
---
Seniors 65+ currently outnumber children under 18 years of age in Central Oregon
Source: U.S. Census Bureau Quick Facts (v.2019)
---
Almost a quarter of Central Oregon's population is 65 or older. And we're aging faster on average than the rest of the state and living longer. So how do you make age-friendly communities? City Club heard from four unique perspectives and learned with support, focus, and a little ingenuity, we can grow older better in Central Oregon. Read the recap and learn ways you can engage.
Susan Rotella, Executive Director of the Council on Aging, set the stage with statistics, challenges, and opportunities.
We're living longer, working longer, and earning longer. Benefit for the economy and our seniors.
21% percent of Central Oregon's population is 65 or older.
Disability goes up as you age with influences your quality of life. When you're 65, you're primarily healthy, but by 85, most see a decline in health.
6% of those 80+ live in poverty in the U.S. They have less access to quality food, housing, and healthcare.
Basic Medicare doesn't cover dental, hearing, or vision.
93% of older adults live at home, 27% live alone.
Loneliness has been estimated to shorten a person's life by 15 years, equivalent in impact to being obese or smoking 15 cigarettes per day.
In 2019, the City of Sisters became a World Health Organization certified Age-Friendly Community based on the 8 Domains of Livability. From social participation to transportation and housing, AFSC was instrumental in providing the services for Sister's seniors to live healthy lives.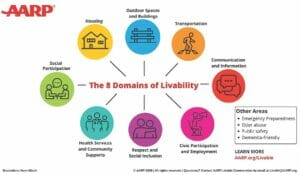 Key AFSC programs include:
Sisters Transportation and Ride Share (STARS), which kicked off right when the pandemic did in March 2020, offers seniors free transportation to appointments Monday – Friday, 8 AM-5 PM.

How can you engage? Become a volunteer driver or dispatcher. Click here for more information.

Sisters Villages are neighborhood-specific social networks to connect people of all ages.
BridgeMeadows is a unique intergenerational living model combining youth formerly in foster care, their adopted families, and elders. Each planned community includes affordable family housing and apartments for seniors on the same property where they can form relationships, assist each other, and find purpose. Seniors help with childcare, and parents assist elders with errands and children bond with extended families.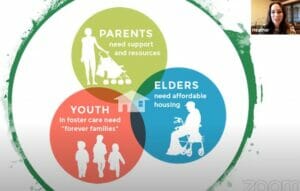 Two successful communities in Portland and Beaverton have been the model for a new Redmond community opening in October 2021. Read more about the projects here.
How can you engage? Invest in BridgeMeadows so more communities can assist these vulnerable populations.
See BridgeMeadows featured in "The Antidote," a documentary about intentional modes/lifestyles of kindness. Available on Amazon Prime.
Betsy Warriner, a long-time Central Oregon community member, and volunteer reiterated the importance of purpose, especially as you age. If we have a sense of purpose, we live longer, healthier lives. She walked us through creating a purpose compass. Asking yourself: what do I love doing? What do I love being in the middle of? And What do I believe in?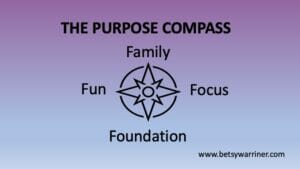 How can you engage? Volunteer in your community! Volunteering is good for your mental health. Visit Volunteer Central Oregon to find a match.
Resources
Speaker slide decks:

Susan Rotella: Executive Director, Council on Aging, Bend and all Central Oregon
Toni Landis: Sisters Age-Friendly City Initiative, Sisters
Heather Salvesen: Fundraiser, Bridge Meadows, Redmond and Bend
Betsy Warriner: Founder, Volunteer Central Oregon and nonprofit consultant, Bend
Other
Thanks to forum sponsors: