We paused. We leaned in. We shared. We connected.
Thanks for showing up for Politics, Sex & Religion—how to have difficult conversations without being difficult. Seems like this conversation struck a chord, with powerful new awareness and insights. It's good to be in community together.
Huge gratitude to our panelists who spoke wisely and from their hearts—Erika McCalpine, Tim Williams and Rev. Steven Koski. More gratitude to the team at City Club—event planners Bill Buchanan and Christine Coffin, and the indefatigable Joey Drucker, who gets it done every month on behalf of the mission of City Club: Conversation Creates Community.
The most asked text question was directed to Erika McCalpine, "What do you expect people to do in a situation like the one that happened to you at the Old Mill?" Erika's response is:
In that moment, when I looked around and didn't see anyone is when I felt fear. I knew that if other people were around, it would deter further bad behavior. Sometimes, just being present is enough. I do not expect anyone to put themselves in harm's way for me or any other stranger. I wouldn't want someone to be hurt trying to defend me. I don't have a lot of experience dealing with situations like the one I described, but I wouldn't engage (verbally or physically) with someone unless I absolutely had no other choice. That is the same advice I would give anyone else. Do not engage unless you absolutely have to. I had the option to ignore and keep walking and that is what I did. I would have felt safe had I seen other people, or if someone were walking with me. I don't feel like a coward because I kept walking. It was the right thing to do to protect myself, maintain my personal values, and come home to my children.
The point of my sharing yesterday wasn't to bring about guilt or make people feel personally responsible for those around them. It was to show what can to people, not only in Bend but anywhere. It is easy for people to get involved with life and not pay attention to what is happening around them. If we truly want change to happen and Bend be a welcoming community for all people, then we (myself included) have a responsibility to do what we can to ensure our community is safe and sometimes that requires confronting hate. At times, just letting people know that you don't agree with their feelings about x, y or z is enough. Racism, sexism, ageism or any other isms are many times more subtle and not outright like the situation I described. In those instances, just having the courage to speak up and say, "I don't agree" is all that needs to be done to make a person think twice before saying or doing whatever they were saying or doing.
I sincerely appreciate the outpouring of support and I welcome any dialogue to further this conversation. I am happy to have as many cups of coffee as I have the time to have in order to interact and learn from members of this community. Exposure to different groups is how we all grow. Again, that one experience along with a few others I have had have not made me feel that Bend isn't the place for me and my children. Overall, we are doing well and Bend is a great place. Most people are very friendly and welcoming and I appreciate that. I am not afraid here and I don't want anyone to be afraid of getting to know me or someone like me. We are all just people and life is easier with as many people as possible in it.
And here are the Four Tenets of Successful Conversations: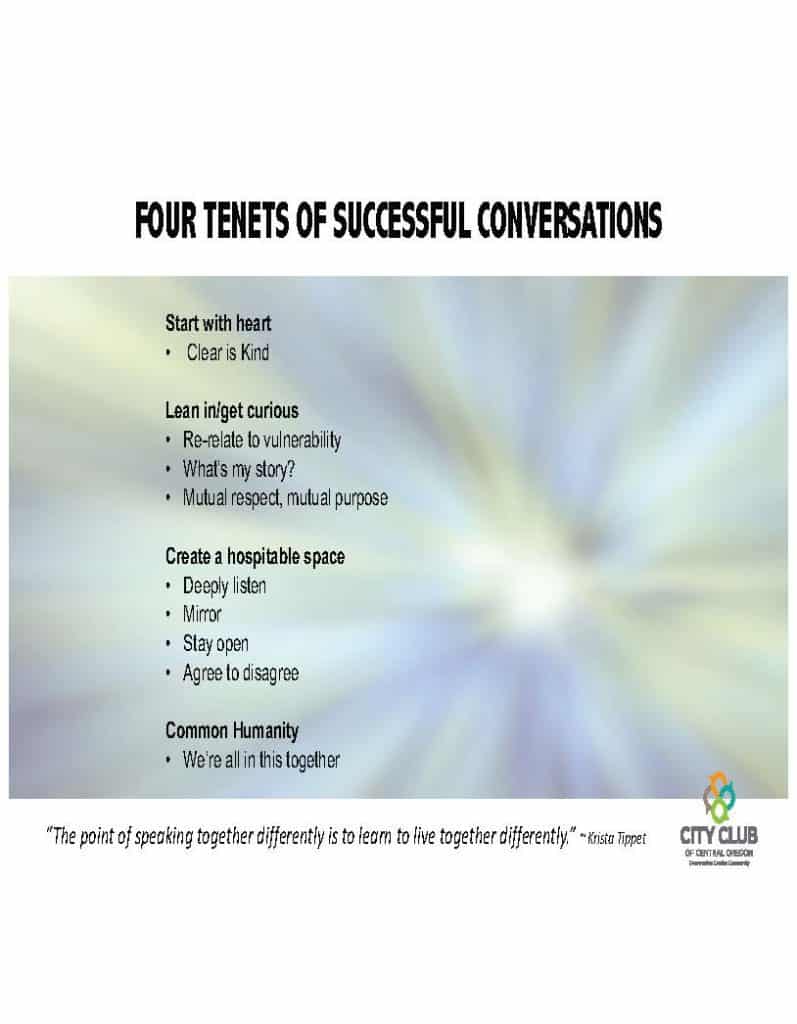 and the Resources slides, for your information: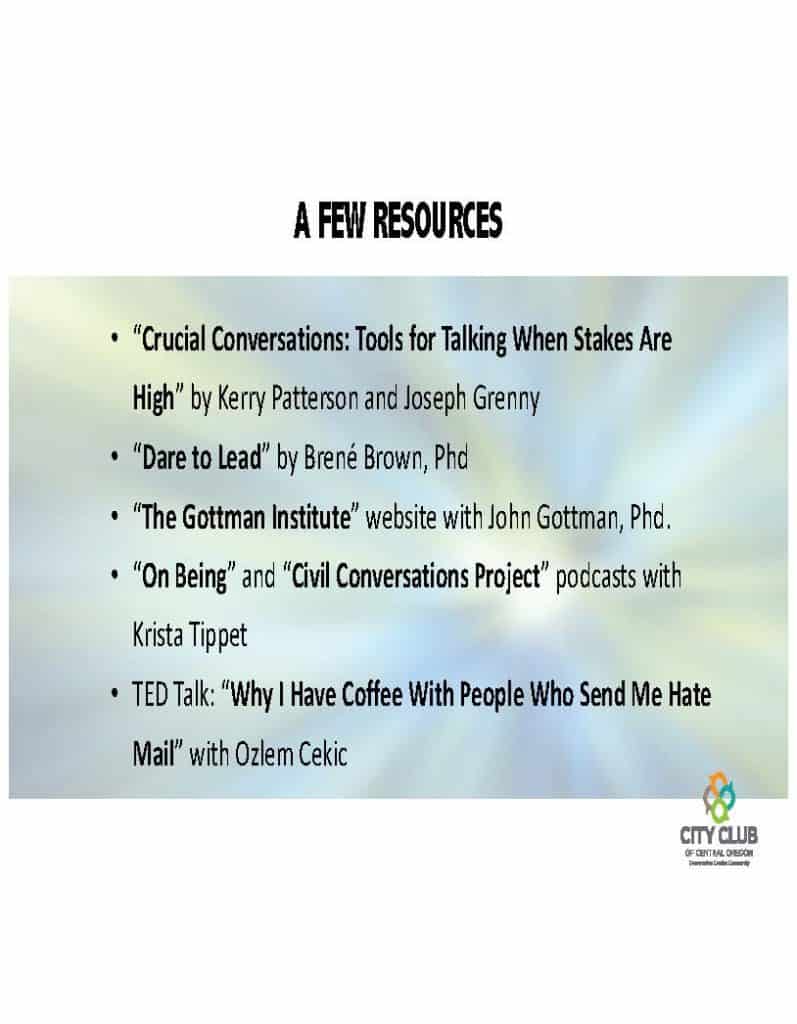 City Club thanks panelists Erika McCalpine, Dr. Steve Koski and Tim Williams; forum supporting sponsors LIVE OAK BANK and SCHMID MALONE BUCHANAN LLC.
With gratitude for being in community together,
Ruth Williamson, moderator
See more pictures from the forum on our Facebook page!