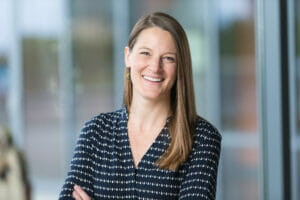 By Erin Merz
In just a few short months, conversations that started at City Club led me to two life-changing events: a new job and holding public office.
A friend recommended City Club in fall 2022 as we emerged from the pandemic and I was looking for ways to engage more deeply in the Central Oregon community. Espousing a "don't just join, join in" attitude, I became a marketing committee volunteer on top of a member.
Fellow committee member Lou Capozzi and I were also members of the same public relations professional association. We quickly set a coffee date where we swapped career stories and discovered shared connections. I told Lou I was ready to find a job in Bend after several years of remote work and he pointed me toward an open marketing communications position at Cascades Academy. I applied, interviewed, was offered the job, and started in January.
Soon after at the February City Club Forum, I sat at the same table as Central Oregon Community College Director of Marketing & Communications Jenn Kovitz. We got to talking and commiserating over back pain, which led to a walking meeting a couple weeks later. Jenn, who knew my background in public higher ed, shared that there were COCC board of director seats open in the May Special District election and she'd introduce me to some folks if I was interested in learning more. I was and she did. I ended up running and winning a seat in the election.
City Club creates conversation around important issues in our community, along with a welcoming space for casual conversation and networking. Say hello to those at your table and next to you in the coffee line — you never know where it could lead.