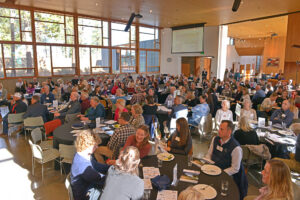 Since our founding in 2006, the City Club of Central Oregon's (CCCO) mission has been to build a conscious and civic-minded community through dialogue, education and research that results in responsible civic engagement.
To fulfill our mission, we produce forums on a range of topics for a variety of audiences. The backbone of our programming is our monthly forum that delves into issues in our community, opens discussion and seeks solutions.
The past three years have been difficult not just because the pandemic made gathering difficult, but also the increasing fragmentation and partisanship felt across the country. It is harder than ever for people of different backgrounds and opinions to build consensus.
This presents our greatest opportunity to date. CCCO is uniquely positioned to bring together community leaders, business leaders, young professionals, longtime residents, new residents and all those looking to engage in a civic discussion. We can only do this through the support of sponsors, members and donors like you.
Please take a moment to consider donating to City Club above and beyond your membership.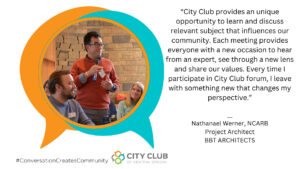 Thank you to everyone who continues to support and participate in spirited civil discussions.
Conversation Creates Community.