Our March forum hosted speakers that took a personal look at how gender equity in the workplace in our region faces a bumpy but ultimately rewarding future.  It is a path that has never been forged before and there is a need for guidance and mentors to help lead us. If we don't want to wait 200 years or more, as speaker Carrie Douglass pointed out, to improve these statistics: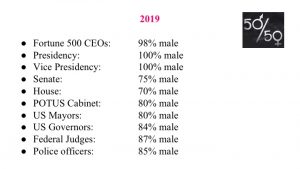 then we must exercise what speaker Yong Bakos called, "hyper-awareness."
Want more information? Explore these additional resources:
City Club thanks March's forum facilitator Mike Riley (The Environmental Center), speakers Carrie Douglass (The Haven) and Yong Bakos (OSU-Cascades; forum supporting sponsors The Haven and PacificSource for helping create this important conversation.
See more pictures from the forum on our Facebook page!