The average Central Oregonian produces 2,700 pounds of garbage a year! With our increased population predictions, Deschutes County's Knott Landfill Recycling and Transfer Facility is expected to be full by 2029. During the July forum, we heard about the pros and cons of the two options (pay to transport out of county or create a new in-county landfill) from Deschutes County Director of Solid Waste, Timm Schimke. In addition, Denise Rowcroft from The Environmental Center provided education on reducing waste and proper recycling. As always, our forum had many unanswered questions.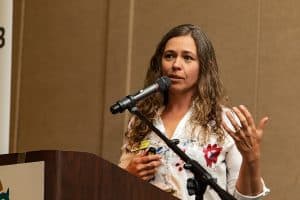 Denise took extra time to answer a few below.
Are there any specific plans for effective waste management procedures for multi-family dwellings, such as providing property managers with incentives for maintaining recycling facilities and educating tenants?
Yes, there will be a new focus on multi-family dwellings. Oregon Department of Environmental Quality (OR DEQ) has recognized that while multi-family housing has the opportunity to recycle, often the communication (educational flyers from recycling provider for instance) goes to the owner or rental management company and doesn't reach the residents. We will be working with our local recycling companies in Deschutes County, with statewide resources and input from OR DEQ to get information directly to tenants.
Are reusable bags better/more sustainable than paper? How cost-effective?!
Yes, reusable bags are better than paper bags. Paper bags require more energy than plastic to be made (and also contribute to deforestation in places) and do cost stores more than plastic. Plastic bags are made from a petroleum byproduct, but as we know, they last forever in the environment. The benefit of paper bags here is that they break down eventually or are easily recycled. Paper bags have a more prominent "upstream impact," and plastic bags have a more significant "downstream" impact.
The answer is to use reusable bags. If you don't already have some, every thrift store has a surplus. I am personally disappointed that the 10 cent fee is going away. In the short week I saw it implemented at stores I witnessed many people using reusable bags or putting their groceries back in their cart for unloading into their car. Meaning, 10 cents was actually enough to change behavior.
Could you please tell us more about the program starting this fall that allows food waste in the yard debris bins?
Currently, anyone in Bend city limits can opt-in for yard debris service. This cart is picked up every other week on glass recycling week, and can now accept leaves, grass clipping, branches, weeds and fruit and vegetable kitchen scraps (like you would put in a backyard composting bin). Here's a link to what they currently accept: https://bendgarbage.com/residential-yard-debris-service/
Beginning later this year (official date TBD) all residents in city limits that opt-in to this yard debris pick up service will be able to put ALL food waste in their bins fo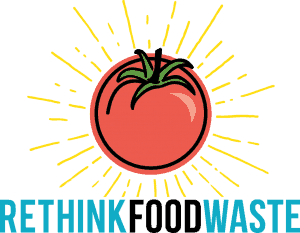 r composting (including anything that's left on the plate, including meat, breads, oily foods that you wouldn't put in a home bin.) This is really exciting as it will greatly help us reduce the organics heading to the landfill, however, just because you can compost it doesn't mean you shouldn't also be working to avoid wasted food in the first place. Get tips on that here: http://www.rethinkwasteproject.org/foodwaste/  
What happens to the stuff in the recycling that's not supposed to be there?
All of our curbside comingled recycling gets bundled up into 2,000-pound bales at a facility across the street from 10 Barrel. From there it gets sent to a Materials Recovery Facility (MRF) where it gets cut apart and placed on the floor of a giant warehouse. It then gets sorted by both machines and by hand, depending on the material. If the bales are too contaminated with trash, they can end up in the landfill. If it is minor contamination, it may still get through. However, the comingled recycling in the United States has been so contaminated that the overseas markets that used to take it now refuse. Because our recycling was so contaminated with stuff that wasn't supposed to be there, much of those bales ended up in over seas landfills or, worse, in the ocean. The trash that is picked out by hand by people at the MRF gets sent to a local Oregon landfill.
What sites are being considered within the county for potential landfill locations?
The county has not disclosed any information around specific sites at this time.
Please educate me: is kitty litter "yard waste" or regular garbage waste?
Kitty litter is garbage waste. And although dogs are different species than your question addresses, here is a great article from the source about dog poop.
It looks like a lot of fill is construction related. Let's give a shout-out to Restore… and is anything happening in the building sector?
I love ReStore and am there weekly it seems! There is currently nothing formal happening in the building sector (that I am aware of). Bend has quite a few builders that personally choose to do the best they can to prevent and reduce waste, and then take the space/time/labor to sort out materials on the site so that they get reused and recycled where possible. Some of them choose to do that because it's the right thing to do; some are additionally motivated to get the green building requirement credits (LEED certifications). There is certainly a huge amount of work still to be done in this sector, and I feel that once we have a waste analysis of what exactly is coming into our landfill, it will make the case to the community for more effort there if we do find high percentage of construction & demolition (C&D) waste coming in. Potential work in this area could include industry-specific education, focus groups that learn what the challenges and opportunities that builders face and seeing if there are ways to reduce those burdens. We also look to other communities to find successful methods that we can incentivize increased reuse and recovery.
I really appreciate the work of the rethink waste project. How will you continue to reach all the new people moving to Bend?
Thanks! Yes, we do realize that visitors to our area (and new residents) bring with them their knowledge and behaviors of wherever they came from. They could come from a city that accepts much more in their recycling bins and contaminates our local stream, or they may come from a rural area that doesn't have any recycling in place. Also, sometimes it is just hard to do the right thing in a new community if you are given no information, tools, or motivation to do it, and you have 'vacation brain' on.
Realizing there is work to be done in this area, this past spring we brought together a couple of focus groups that gathered two dozen people from across the tourism sector, representing lodging, recreation, retail, travel, resorts and breweries to get input on ways that we could reach visitors. I also spoke with other communities to learn about what is happening (or not happening) in similar areas that experience tourism. I will be compiling this information to come up with a recommended action plan that specifically addresses these concerns. If you are tapped into this sector in any way (vacation rentals, for example), please reach out to me!
What is the status of recycling economics in Deschutes County, i.e., can we sell our recycling to be cost-effective?
The global recycling markets continue to be volatile and changing. There is currently a cost to recycle the materials listed on your recycling guide. It is essential for our residents to Recycle Right and only include the materials that are listed on the recycling guide to help keep contamination at a minimum. The commingle material is baled in Bend and shipped to a Material Recovery Facility (MRF's), where the material is sorted and sent to market. Any trash or other content that is not included in the recycling program will be disposed of.
What percentage of the items put in recyclable containers end up being thrown out because they are not in fact recyclable?
The Oregon DEQ last did a recycling composition /contamination report in 2009 / 2010 and it indicated about 9%-10% of incoming commingle materials were contaminants and not supposed to be set out for recycling as part of the commingle recycling mix.
China is no longer buying recycling. Where is ours going?
All of our curbside comingled recycling gets bundled up into 2,000-pound bales at a facility across the street from 10 Barrel. From there it gets sent to a Materials Recovery Facility (MRF) in Portland where it gets cut apart and placed on the floor of a giant warehouse. It then gets sorted by both machine and re-baled into like materials and sold as commodities.
Are there tool (lending) libraries in Bend?
No, there are no specific lending libraries in Bend. However, some places rent tools, and there is the DIYcave that offers membership with an incredible offering of tools.
How do you view Amazon as a company as it relates to over-consumption, purchasing of "stuff" in this day and age?
I think I'm one of the Amazon holdouts. Once you sign up for free two-day shipping, not choosing that becomes so much more of a hassle. Why take the time to go downtown and look to see if they have the book you want in stock when you can have it shipped right to your door?! It definitely has some benefits for our society (people in rural communities have equal access to getting what they need and getting it delivered. The reviews can be super helpful in figuring out a quality product that won't break within six months. Most products are engineered for short life spans through "planned obsolescence," but the impacts can't be ignored. Overall from travel and packaging downstream to the increased consumption in general that Amazon delivery promotes and all those unseen upstream impacts. Plus, Amazon is so full of cheap stuff that it both distorts what we think things should cost, and often the cheap stuff essentially becomes instant garbage. I choose to shop used first for most things, then brick and mortar – both big box and local businesses. I shop online for when I can't find something in town, or I am buying a gift for someone out of town, and I know that if I have to follow through with shipping, it will definitely be way late! OK, off my soapbox now!
Is there a city that's "doing it right"? Who do we want to be?
South Korea is surely doing a great job with their food waste. However, because of their land restrictions (their population density is considerably higher than ours here in Deschutes County), they have no choice but to figure out how to reduce their waste and divert as much as possible. It would be nice if we could figure out how to encourage people to care before our population is as dense or before it hits them in the wallet. Many cities in Europe are doing a great job as well.
Do you have other ideas? Help us continue the conversation and take action…
Share ideas on City Club's social media: https://www.facebook.com/CityClubCO/
Start talking, reach-out and engage others in this dynamic topic.
Watch for opportunities to get involved and to provide support.
Thank you to Becca Gilbert, City Club of Central Oregon Programs Committee Member for helping continue this conversation.