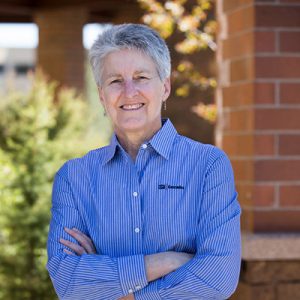 Dr. Rebecca Johnson
Vice President, OSU-Cascades
Dr. Rebecca (Becky) Johnson, was appointed as a vice president for Oregon State University – Cascades in May 2009, after serving as the interim leader since December 2008. As vice president, Dr. Johnson serves as the executive of the campus, reporting directly to the provost and executive vice president of Oregon State University.
Prior to coming to OSU-Cascades, Dr. Johnson had built a nearly 25-year career at Oregon State University in Corvallis, most recently, as vice provost for academic affairs and international programs.
As vice provost, she oversaw areas including Academic Programs and Academic Assessment; Difference, Power, and Discrimination Program; Writing Intensive Curriculum; Center for Writing and Learning; Academic Success Center; International Programs; Institutional Research; the ROTC units; OSU Press; and the OSU Libraries.
She was also responsible for leadership in all areas of academic personnel policy, including promotion and tenure, appointments and reappointments, sabbatical requests, and faculty awards and recognition. The vice provost serves as the liaison on university accreditation and related activities.
As the senior associate to the provost and executive vice president, Dr. Johnson was involved in all aspects of academic affairs, including academic budgeting and strategic planning, and served as a member of the Cabinet and Provost's Council.
Prior to her appointment as vice provost, Dr. Johnson served as the associate dean for academic affairs and international programs in the College of Forestry. She also has served in the Faculty Senate and on many university committees. She was the chair of the OSU 2007 Steering Committee, which led the development of the OSU Strategic Plan. From 1990 to 2003, she served on the Governor's Council of Economic Advisors.
Dr. Johnson joined OSU as an assistant professor and now holds the rank of full professor in the Department of Forest Resources, College of Forestry. Her research focused on estimating the economic values and impacts of non-market resources, including recreation and tourism, fish and wildlife, and biodiversity. She has collaborated with federal, state, and local agencies on issues of concern to rural, natural-resource-based communities.
She received a B.A. in economics from the University of Wisconsin-Madison and an M.S. and Ph.D. in agricultural economics from Michigan State University.