March forum: 2016 Agenda and Priorities with Oregon's Governor Kate Brown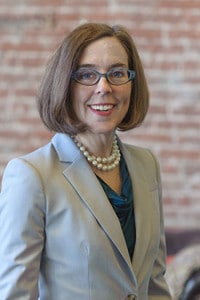 Join us to discuss the current plans for our great state with invited guest Governor Kate Brown!
Governor Brown's 2016 policy agenda prioritizes the well-being of Oregonians and local economies. At our forum, the Governor will discuss her 2016 agenda and the important role state government plays in adding value to Central Oregon's economic enterprise.
The Governor will pursue a combination of executive and legislative actions she will take over the next year to focus on creating:
A Thriving Statewide Economy
Excellence in State Government
Healthy, Safe Oregonians
Responsible Environmental Stewardship
"This year, I will be working to build healthy, vibrant communities that offer opportunities for all Oregonians to engage their full potential," said Governor Brown.  "A thriving Oregon must be resilient and able to sustain the well-being of current and future generations."
With more than 25 years of service to the people of Oregon, Kate Brown serves as Oregon's 38th Governor.
Jamie Christman will moderate the Q&A.
What: City Club of Central Oregon Monthly Forum
When: Thursday, March 17, 11:30am-1:00pm
Where: Riverhouse Hotel & Convention Center
2850 NW Rippling River Court • Bend, OR 97701
Fee Schedule: $25 members / $40 non-members. Plated lunch is included.
Registration closes at noon on Monday, March 14. Registration fees must be paid in advance of the forum.  This will eliminate the line of folks who pay at the door and will move all attendees through much quicker.
Sign up for carpooling at Drive less. Connect.